1. 'Palacsinta'(crepe)
Palacsinta is the hungarian version of a pancake. It's usually thin and we eat it rolled up. You can fill nutella, jam, cocoa, pudding, or anything inside. We also have some special types of palacsinta:
'Gundel palacsinta'

'Gundel palacsinta' is filled with ground walnuts, raisins and rum, with some chocolate soup on the top.

Recipe:

Ingredients (8-10 pancakes)

Pancake

200 g flour
pinch of salt
2 eggs
250 ml milk
2 teaspoon sugar (optional)
100 ml soda water
sunflower oil for frying

Filling

100 ml milk
3 tablespoon sugar
100 g ground walnuts
2 teaspoon candied orange peel
40 g raisins
2 tablespoon rum

Chocolate sauce

300 ml milk
120 g sugar
2 teaspoon vanilla sugar
100 g coverture
2 egg yolks
2 tablespoon cocoa powder
2 tablespoon flour
2 tablespoon rum
20 g butter

Directions

Pancake: Combine the flour, salt, eggs, and milk, to make a smooth batter. Add the sugar if the pancakes are to have a sweet filling. Pour enough soda water into the batter to give it a thick, creamy consistency. Brush a skillet with some of the oil, and ladle a small amount of batter into it. Tilt the skillet to distribute the pancake batter, and fry on both sides over a high heat.

Filling: bring the milk and sugar to the boil, then add the nuts. Simmer the mixture, stirring all the time, until it thickens and a custard forms. Add the candied orange peel, raisins, and rum. Fill the pancakes with the custard. Fold the pancakes over twice, into a fan shape, and arrange them on a serving dish

Chocolate sauce: Mix together 200 ml of the milk with the sugar, and vanilla sugar. Bring to a boil and melt the chocolate in the hot milk. Whisk together the remaining cold milk, egg yolks, cocoa powder, and flour until foaming, then add it to the chocolate mixture, stirring all the time. Bring the sauce to a boil again, then remove from the heat and add the rum and softened butter. Pour the chocolate sauce over the pancakes and serve immediately.

Hortobágyi palacsinta

'Hortobágyi palacsinta' is filled with meat and fried onion, with sour cream/paprika sauce on top of it. It's not really a dessert though.

Recipe:

Ingredients (4-6 servings)

Stew:

55 g extra virgin olive oil
25 g diced onions
450 g ground veal, chicken, pork, or beef
300 g diced tomatoes
2,5 dl water
4 teaspoons paprika
1/4 teaspoon caraway seeds
2 tablespoons freshly chopped parsley
120 g sour cream
salt and pepper to taste

Crepes

4 eggs
125 g flour
2,4 dl milk
oil for pan

Sauce

drained liquid from meat
35 g flour
240 g sour cream

Directions

In a large pan, drizzle olive oil over medium heat. Add onions and cook, stirring occasionally, until softened and translucent. Stir in the meat and break it up into small pieces. Cook, continuing to break it up, until browned. Stir in tomatoes and water. Add paprika, caraway seeds, and parsley. Cook, stirring occasionally, until sauce thickens. Stir in 120 g sour cream. Place a fine mesh sieve over a medium bowl. Pour meat sauce into the sieve and let drain. In another medium bowl, whisk together eggs, flour, and milk until a smooth batter forms. Heat a large non-stick skillet over medium low heat. Brush with about 1/4 teaspoon oil. Pour in about 1/4 cup batter and quickly tilt the pan to coat with a thin circle of batter. When the top begins to dry, flip to cook the other side. Cook until the bottom begins to turn golden, about 1 minute. Repeat with remaining batter, brushing the pan with oil as needed. Preheat the oven to 350 degrees. Lightly grease a 9x13 inch baking dish or 2 smaller baking dishes. Place a layer of drained meat along the lower third of a crepe, leaving a 2,5 cm border on the edges. Fold in the sides and roll up. Place in the prepared baking dish, seam side down. Repeat with remaining crepes and filling. Whisk 35 g flour and 240 g sour cream into the drained liquid from the meat until smooth. Pour over the prepared crepes. Bake in a preheated oven until heated through and the sauce is bubbly, about 15 minutes. Serve hot with sour cream.
---
2. 'Gesztenyepüré'(chestnut purée)
It's a sweet creamy purée of chestnuts, sugar, and rum, with whipped cream on the top.
Recipe:
Ingredients (6 servings)
0,9 kg sweetened chestnut puree
4 tablespoons powdered sugar
1 tablespoon dark rum
240 g heavy whipping cream
optional: cocoa powder (to taste)
Directions
Gather the ingredients. In a medium bowl, mix together chestnut puree, confectioners' sugar, and rum. Place mixture into a ricer and portion out into serving dishes, swirling if possible. Top with sweetened whipped cream and if you like with cocoa powder.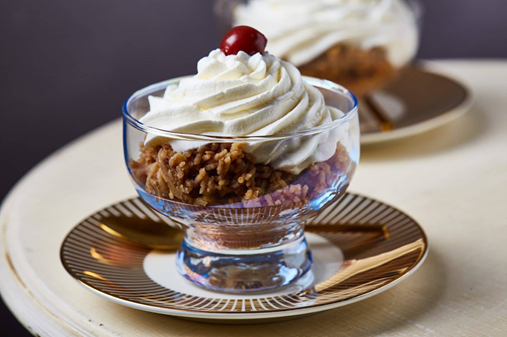 ---
3. 'Kürtőskalács' (chimney cake)
It's dough rolled up on a cylinder and baked rotisserie-style outdoors over charcoal, then covered with sugar, cinnamon, cocoa, nuts, chocolate or coconut flakes. It's sweet and hot, so good especially during the winter. Nowadays, it's getting more common to put ice-cream and some other topping inside the chimney cake, so it's perfect during the summer as well.
Restaurant: Kürtőskalács Házé
---
4. 'Dobostorta' (Dobos cake)
It's a sponge cake with chocolate buttercream-layers and crystallized caramel pieces on the top. The cake originally came from József Dobos, who was a Hungarian confectioner, and it's really popular in the country.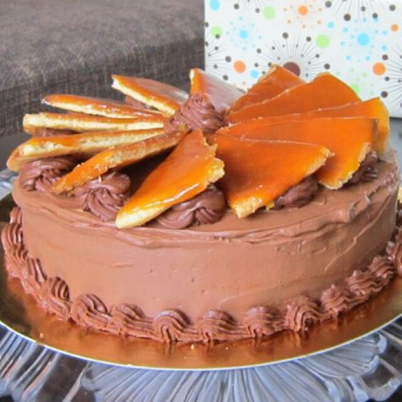 ---
5. 'Bejgli'(spiral strudel)
Bejgli is a long roll shaped dessert, usually filled with sweet walnut or poppy seed. It's traditionally served at Christmas time, but delicious any other day as well.
Recipe:
Ingredients (3 loaves)
Dough
5 tablespoons white sugar
225 g unsalted butter, cubed
3 egg yolks
225 g sour cream
480 g self-rising flour
1 package (~7 g) active dry yeast
Filling
240 ml whole milk
200 g white sugar
170 g finely chopped walnuts
1 lemon, zested
105 g golden raisins
1 egg
1 tablespoon water
Directions:
Combine the 5 tablespoons sugar, butter, egg yolks, and sour cream in the bowl of a food processor fitted with the dough blade and process well. Add the flour and yeast and process until the dough comes together. If the dough feels too wet, add a little more flour; if it's too dry, add milk a tablespoon at a time. The dough should be moist and easy to work with. Shape the dough into a ball, cover with a damp towel, and set aside. To make the filling, heat the milk and 200 g sugar in a saucepan until the sugar dissolves and the mixture has a syrupy consistency. Add the chopped walnuts and stir to combine. Remove the saucepan from the heat; stir in the lemon zest and raisins, and let the filling cool. Divide the dough into three pieces. Roll one piece of dough out on a lightly floured surface to form a long rectangle about a 0,5 cm thick; keep the remaining dough covered. Spread 1/3 of the walnut filling on the dough, leaving about 2,5 cm of dough at each edge. Roll the dough up to form a log, and press to seal. Place the dough, seam-side down, on a parchment-lined baking sheet. Repeat with the remaining dough and filling. Beat the egg with the tablespoon of water to make an egg wash. Brush the loaves with egg wash and let rest for 1 hour in a warm place. After the dough has risen, brush it again with egg wash and put the baking tray in the refrigerator for 30 minutes (this will give the dough a shiny finish). Preheat an oven to 190°C. Bake the loaves until they're a deep golden brown, about 35 to 45 minutes.
---
6. 'Somlói Galuska'(Somloi trifle)
It's made of three different types of sponge cakes (plain, chocolate and walnut), raisin, walnut, vanilla sauce, syrup, and chocolate sauce, topped with whipped cream and sprinkled with cocoa. It's a really sweet dessert, which won the Hungarian's favourite dessert prize in 2010.
Recipe:
Ingredients (6 servings)
100 g raisins soaked in rum
100 g ground walnuts
whipped cream made from 240 g heavy cream
Sponge Cake
6 eggs
6 tablespoon powdered sugar
100 g walnut
1 heaping tablespoon cocoa
Rum Sauce
360 ml milk
140 g sugar
1 teaspoon ground lemon peel
1 teaspoon ground orange peel
2 tablespoon rum
Vanilla Cream
360 ml milk
1 whole vanilla stick
2 egg yolks
55 g powdered sugar
1 teaspoon corn starch
Chocolate Syrup
200 g bitter dark chocolate
2 tablespoon rum
Directions:
To prepare the sponge cake, beat the egg yolks and sugar until stiff, add the flour, then the stiffly beaten egg whites. Combine. Divide the mixture in two. Mix the ground walnuts into one half and the cocoa into the other. Pour the mixes separately into a high baking sheet lined with baking paper and bake in a medium hot oven until ready. (the sponge cake should be done in about 12 minutes. To prevent the cake from collapsing, do not open the oven door.) Boil the milk and the vanilla stick for 5 minutes, remove, add egg yolks, sugar, and the corn starch. To prepare the rum syrup, cook the sugar in 1 cup milk, the lemon and orange peel for 15 minutes, then add rum. Break the sponge cake into smaller pieces and combine. Place one layer of sponge cake in the bottom of a large glass or on a plate, sprinkle with the rum syrup, the ground walnuts, raisins, smooth some of the vanilla cream on top, then repeat the layers again. Make sure the top layer is sponge cake. Sprinkle the top with cocoa, add whipped cream made from 1 cup heavy cream, and pour the chocolate syrup on top.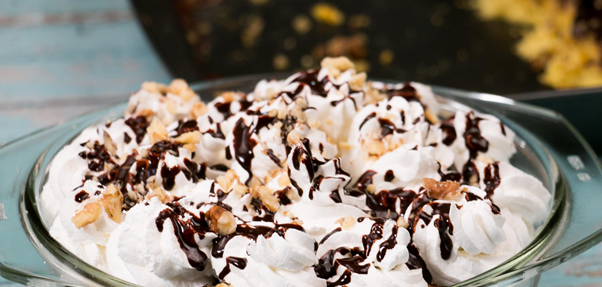 ---
7. 'Túrógombóc' (cottage cheese dumplings)
It's basically Hungarian cottage cheese mix formed as balls, boiled and rolled in toasted bread crumbs, usually served with vanilla sauce or sour cream and powdered sugar.
Restaurant: Fecske Presszó Budapest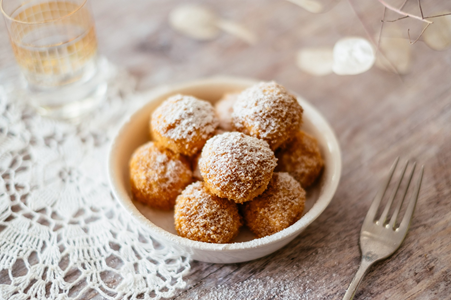 ---
 

8. 'Túró Rudi'
Both kids and adults love this chocolate bar filled with sweet cottage cheese. You can find it in food stores, also with jam fillings. In Hungary, the most popular brand of 'túró rudi' is Pöttyös, which means "dotty", and is wrapped in a cute dotty paper.
Can be found in any bigger shop with refrigerator