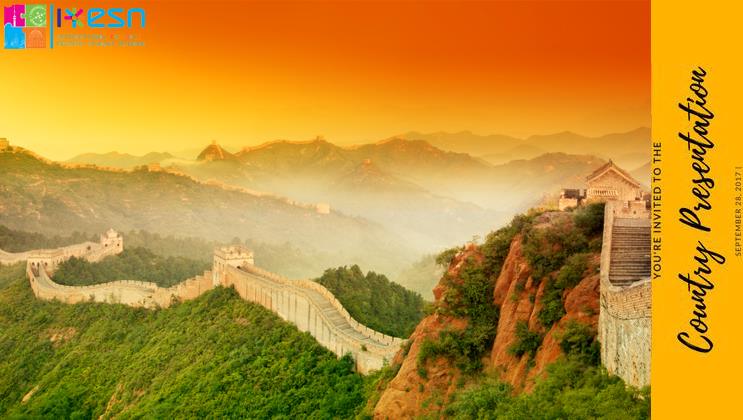 Dear Students, 
We would like to invite you to our weekly and fascinating event called "COUNTRY PRESENTATION". On this THURSDAY CHINA will exhibit their country through presenting own versatile culture and showing great hospitability. 
It is an amazing opportunity for all of us to get know about CHINA from the inside look to their unique cultural legacy)))
- Date: 28 of September, (Thursday)
- The program starts at 20:00
- Location: Trafik,Perczel u. 22., Pécs, 7621 
____________________________________
Dear Presenting Country,
Please...)))
- arrive at: 19:20;
- bring your presentation (maximum 10 minute long) in one file, so we can copy it to our computer. Also, send it to "the Country Presentation ESN Pécs" page as a message with an attached PPT before night; (You can follow to this link: https://www.facebook.com/countrypresentation/?ref=aymt_homepage_panel);
- bring one of your own computers in case something goes wrong. We cannot use Macbook with the projector;
- let us know if you plan some performance (national dance etc.) In addition, let us know if you wish to be first or last or if you have any special requests;
- bring enough trash bags and some cleaning equipments;
- please, help us to clean up the tables before you leave.
There will be a computer, a stereo and a projector for you.
If you have any questions, feel free to contact us.
Facebook link: https://www.facebook.com/events/489624954742263/
See you there!
Best regards,
ESN Pécs