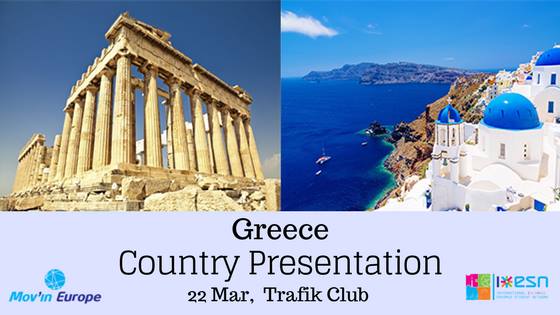 Dear Students, 
We would like to invite you to our weekly event called the COUNTRY PRESENTATION. On this Thursday GREECE and INDIA will be your hosts.
- The program starts at 20:00
- Location: Trafik (Perczel Miklós u. 22)
- Entrance fee: 300 HUF (supports the next presenting countries)
Dear Presenting Countries,
Please...
- arrive at the latest: 19:15 !!!
- bring your maximum 15 minute long presentation in one file, so we can copy it to our computer. Also, send it to the Country Presentation Facebook Page before night. 
- bring one of your own computers in case something goes wrong. We cannot use Macbook with the projector.
- let us know if you plan some performance (e.g. national dance etc.) 
- bring enough trash bags and some cleaning equipment.
- please help us to clean up the tables before you leave. 
There will be a computer, a stereo and a projector.
If you have any questions, feel free to contact us.
Facebook Link:https://www.facebook.com/events/208752549706061/​
See you there!
Best regards,
ESN Pécs
Date:
22/03/2018 - 20:00

to

23/03/2018 - 00:00