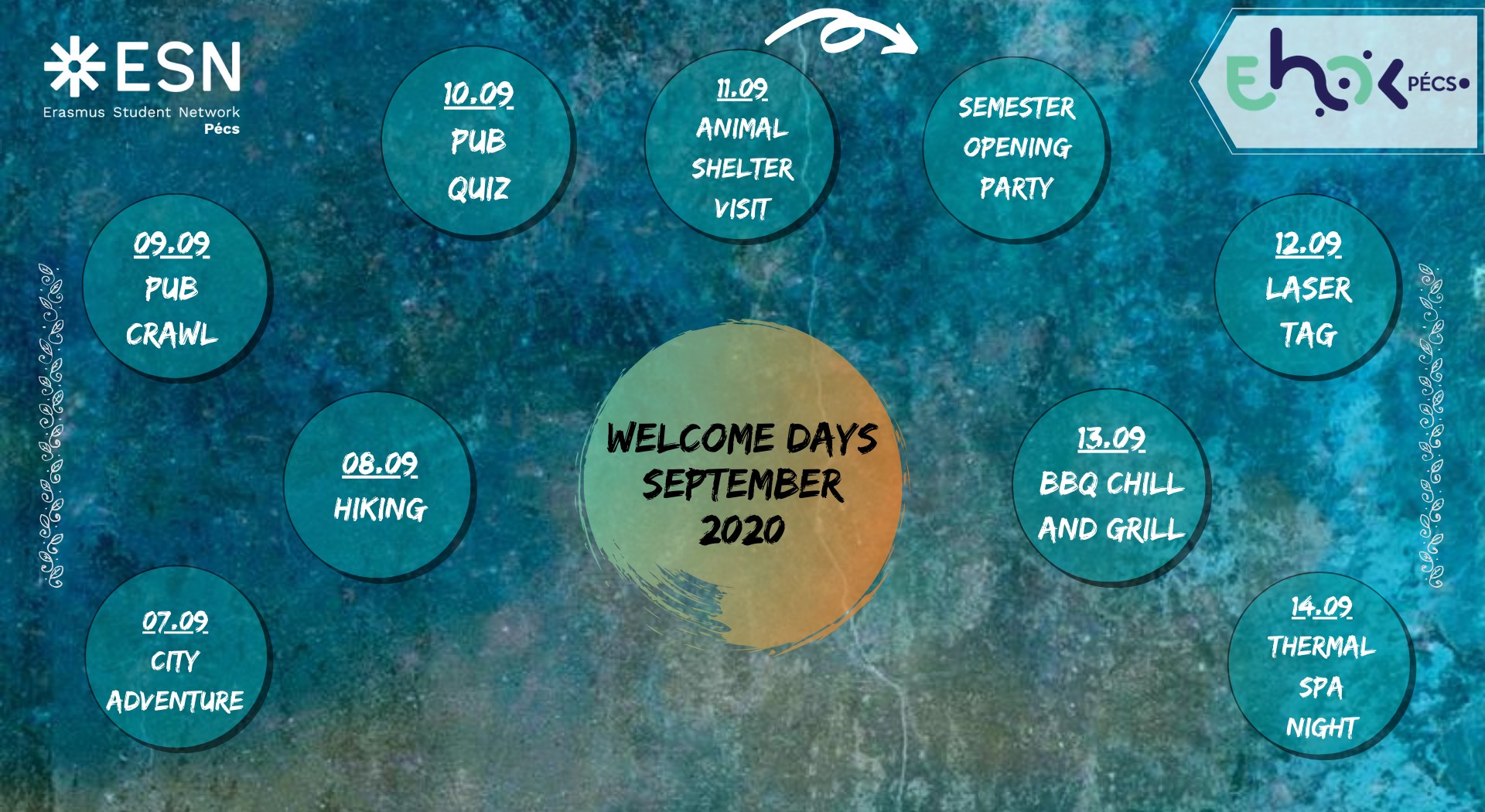 This event was canceled due to Covid-19 restrictions
LET THE SEMESTER BEGIN!
07.09 Monday - CITY ADVENTURE
Let us all meet together, divide into groups and spread around the city to see the beauty of Pécs and play some games on the way. The event starts at 14:00 at the tail of the horse in the main square.
08.09 Tuesday - HIKING
Do you wanna see Pecs from up high? then join us and lets chill around the fire in the mountains. Meeting point will be the horse in the main square at 16:45.
09.09 Wednesday - PUB CRAWL
We will visit the famous pubs of Pécs and enjoy the evening drinking in groups, meeting new people and playing games. Meeting point is yellow Tram at 19:00.
10.09 Thursday - PUB QUIZ
Friendly competition, nice place and a lot of fun. Come and test your brain!
More details will be uploaded soon.
11.09 Friday - ANIMAL SHELTER VISIT
The shelter gives home for different kind of pets and some farm animals as well.
We will have a dog walking for 1 hour together.
OFFICIAL SEMESTER OPENING PARTY
We will be here in order to celebrate the begining of a great semester so bring your GOOD MOOD and lets party. It will take place in Pécsi Est Cafe at 22.00.
12.09 Saturday - LASER TAG
Be ready for some action where you can collect your friends and make a team and play against others in this incredible arena in Laser Corner!! Don't miss your chance to be a part of the laser shooting game! For registration: more details will be uploaded soon.
13.09 Sunday - BBQ CHILL N' GRILL
Let's have a chill night of BBQ and bonfire. Bring your own food to grill on the open fire. It will be at Pollack Strand next to the Faculty of Engineering. Starting at 16:00.
14.09 Monday - THERMAL SPA NIGHT
After all these amazing days of activities and fun, you will experience a piece of the Hungarian thermal bath culture. A relaxing night in the warm water and the saunas of Szigetvár Spa. More details will be sent via emails.
Details regarding the time, location, and registration of every event will be uploaded a couple of days before the actual event and it will be posted HERE!
STAY TUNED.
For more information please don't hesitate to text us, ask us, or be on the orientation day. ([email protected])
Date:
07/09/2020 - 14:00

to

14/09/2020 - 23:00