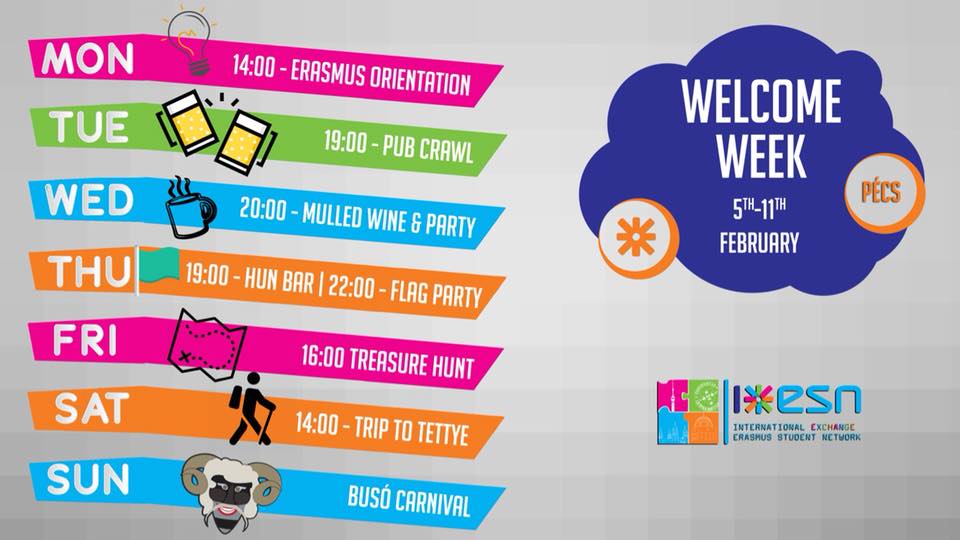 02.05. MONDAY
The Orientation day will be held for the *Erasmus students at 14:00. We will pick you up at Szántó dormitory and on the Main square o we can go together to the Knowledge Center.
*This orientation will be held for students from Erasmus and some other mobility programs. If you recieve an e-mail regrding the program, come!
02:06. TUESDAY
In the evening we will visit some pubs from different directions. This is what we call Pub Crawl.
02:07 WEDNESDAY
We will try the tasty Mulled Wine before going to party in Pécsi Est Café. Start at 20:00.
02.08. THURSDAY
At 19:00 we will meet in Jobb mint otthon bar, where you can try some Hungarian drinks for a discounted price.
After the warm up the Flag party will start at 22:30 in Trafik Club. Our volunteers will paint your national flags on your face, also do not forget to bring your own flags!! :)
02.09. FRIDAY
Let's rest a bit on Friday. In the evening you can try what you have learnt during the first few days. You will have to do the tasks with your teammates during the Treasure Hunt at 17:30.
02.10. SATURDAY
Join us on this day for a hiking to Tettye and enjoy together the evening by a campfire.
02.11. SUNDAY
As a closing day we finish our welcome week with the Busó Carnival which will be in the city called Mohács.
Facebook Link: https://www.facebook.com/events/193258011267324/​
See you soon!
ESN Pécs