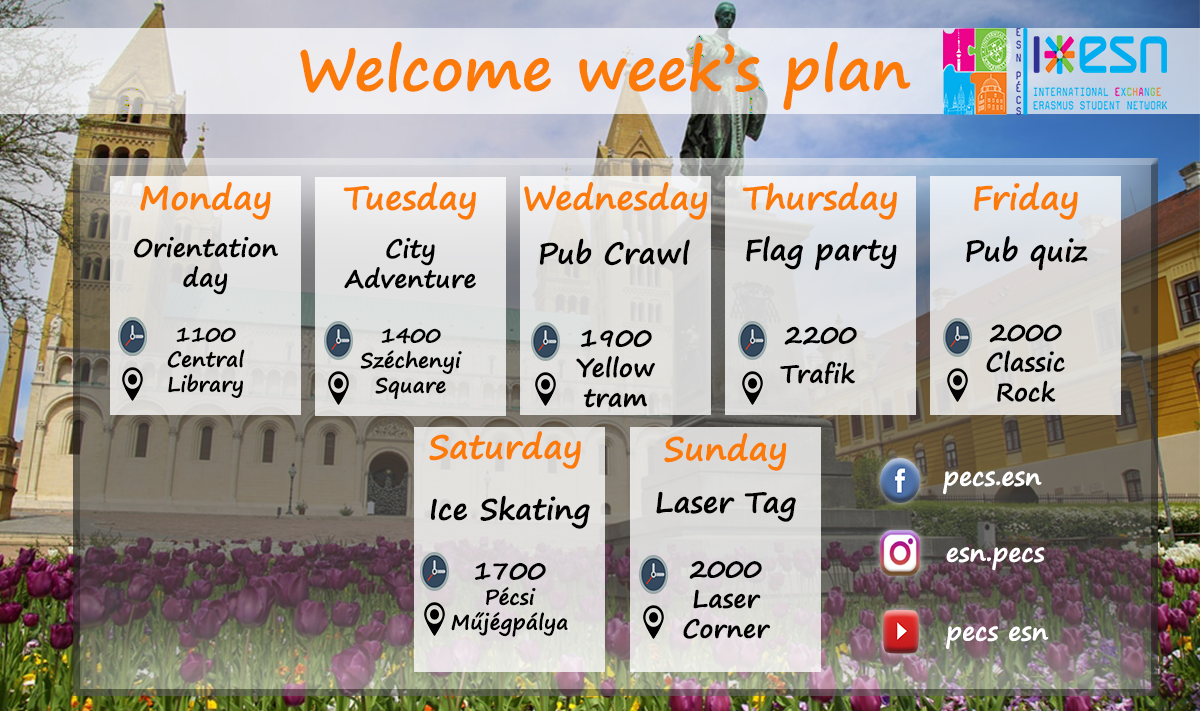 LET THE SEMESTER BEGIN

04.02 MONDAY - Orientation Day
The orientation will be held at the knowledge centre for all incoming Erasmus students. The meeting starts at 11:00am but we will start at 10:00am by picking you up from both Szanto dormitory and the city centre square (horse tail).

05.02 Tuesday - City Adventure
Let us all meet together, divide into groups and spread around the city to see the beauty of Pécs and play some games on the way. The event starts at 14:00 at the tail of the horse on the main square.

06.02 Wednesday - Pub crawl
We shall now visit the famous pubs of Pécs and enjoy a drinking evening in groups, meet new people and play games. Meeting point is Yellow Tram at 19:00

07.02 Thursday - Flag Party
We will be here in order to celebrate our nationality so bring your flag and lets party. It will take place in Trafik at 22.00.

08.02 Friday - Pub quiz
Friendly competition, nice place and a lot of fun. Come, test your brain and win many prizes !!

09.02 Saturday - Ice Skating
Winter is not over so let's enjoy the cold for the last time ! Join us in the Ice skating rink so we can enjoy the ice together ! Don't miss your chance before it's too late !!!

10.02 Sunday - Laser Tag
Be ready for some action where you can collect 7 of your friend and make a team and play against other in this incredible arena in Laser corner !! Don't miss your chance to be a part of the laser shooting game !

More details will be uploaded every day so stay tuned !
For more information please don't hesitate to text us on facebook or email.
Date:
04/02/2019 - 22:00

to

10/02/2019 - 23:00
Contact details:
Facebook: https://www.facebook.com/pecs.esn
Email : esn.pecs@gmail.com