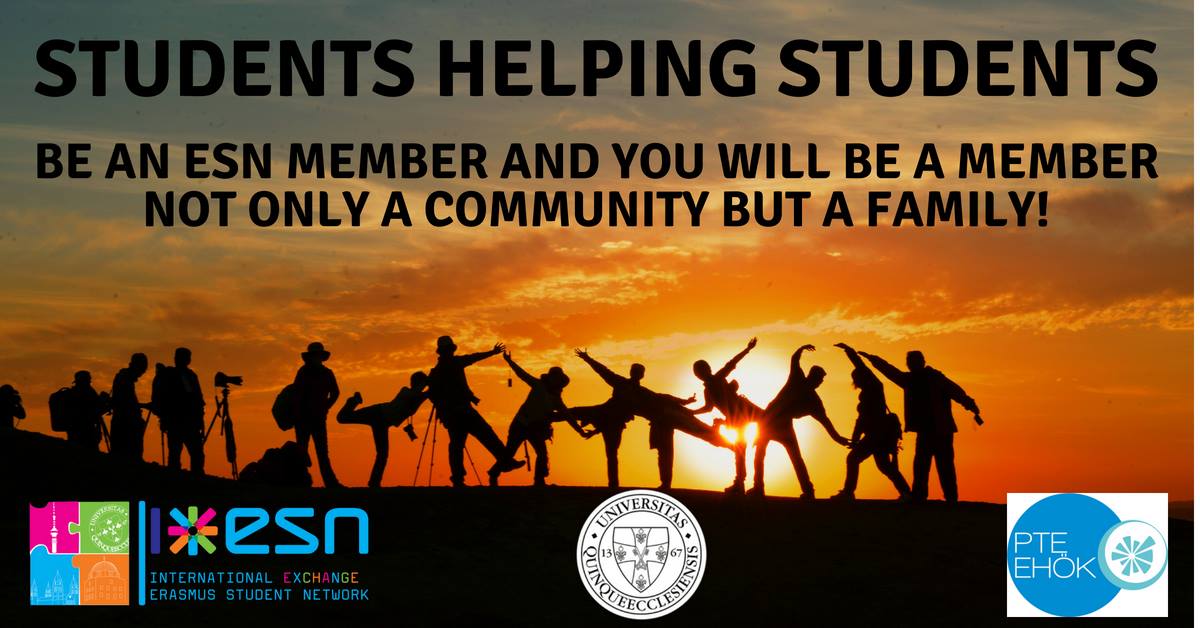 Have you been studying abroad and want to keep the fun going? 
Are you planning to study abroad and want to know how the international student life is? 
Are you looking for an easy way to learn? You can have the chance to develop skills such as:
-Multilingualism 
-International communication
-Time management
-PR and Marketing
-Finances
-IT
-Photography
-Event organizing
-Creativity
-Responsibility? 

If you answered 'yes' to even one of these questions then ESN Pécs wants to meet you! 
✔️
By organizing different types of activities and providing services, our aim is to help the international student community to get to know our culture and show the locals how colourful the world is. 
If you have any questions, feel free to ask via e-mail at esn.pecs@gmail.com, or send a message to our Facebook page. 
To apply you need to send your CV and the application form - available here: https://goo.gl/54S9VW - to the mentioned e-mail address
---------------------------
Külföldön tanultál és szeretnéd folytatni azt az életérzést itthon is? 
Tervezel külföldre menni tanulni, de előtte szeretnél megismerkedni az igazi nemzetközi diákélettel? 
Egy egyszerű módot keresel a tanulásra? Szeretnél olyan képességket elsajátítani, vagy kamatoztatni, mint a:
-Többnyelvűség
-Nemzetközi kommunikáció
-Időbeosztás
-PR és Marketing
-Pénzügy
-Informatika
-Fotózás
-Rendezvényszervezés
-Kreativitás
-Felelősség 
Ha bármelyik kérdésre is 'igen' volt a válaszod, akkor az ESN Pécs pont Neked való! ✔️
A célunk, hogy sokfajta esemény, és különböző programok szervezésén keresztül segítsük a külföldi, de nálunk tanuló diákoknak megismerni a mi kultúránkat, a helyieknek pedig bemutatni, hogy milyen sokszínű is ez a világ.
Ha bármi kérdés felmerült Benned nyugodtan kérdezz! Az e-mail címünk: esn.pecs@gmail.com, vagy csak küldj egy üzenetet a facebook oldalunknak.
A jelentkezéshez nem kell mást tenned, mint elküldeni az önéletrajzod a fenti e-mailcímre és kitölteni ezt a dokumentumot: https://goo.gl/54S9VW
Date:
14/08/2018 - 00:00

to

27/08/2018 - 03:00
Address:
PTE EHÖK, Vasvári Pál Street 4
Hungary