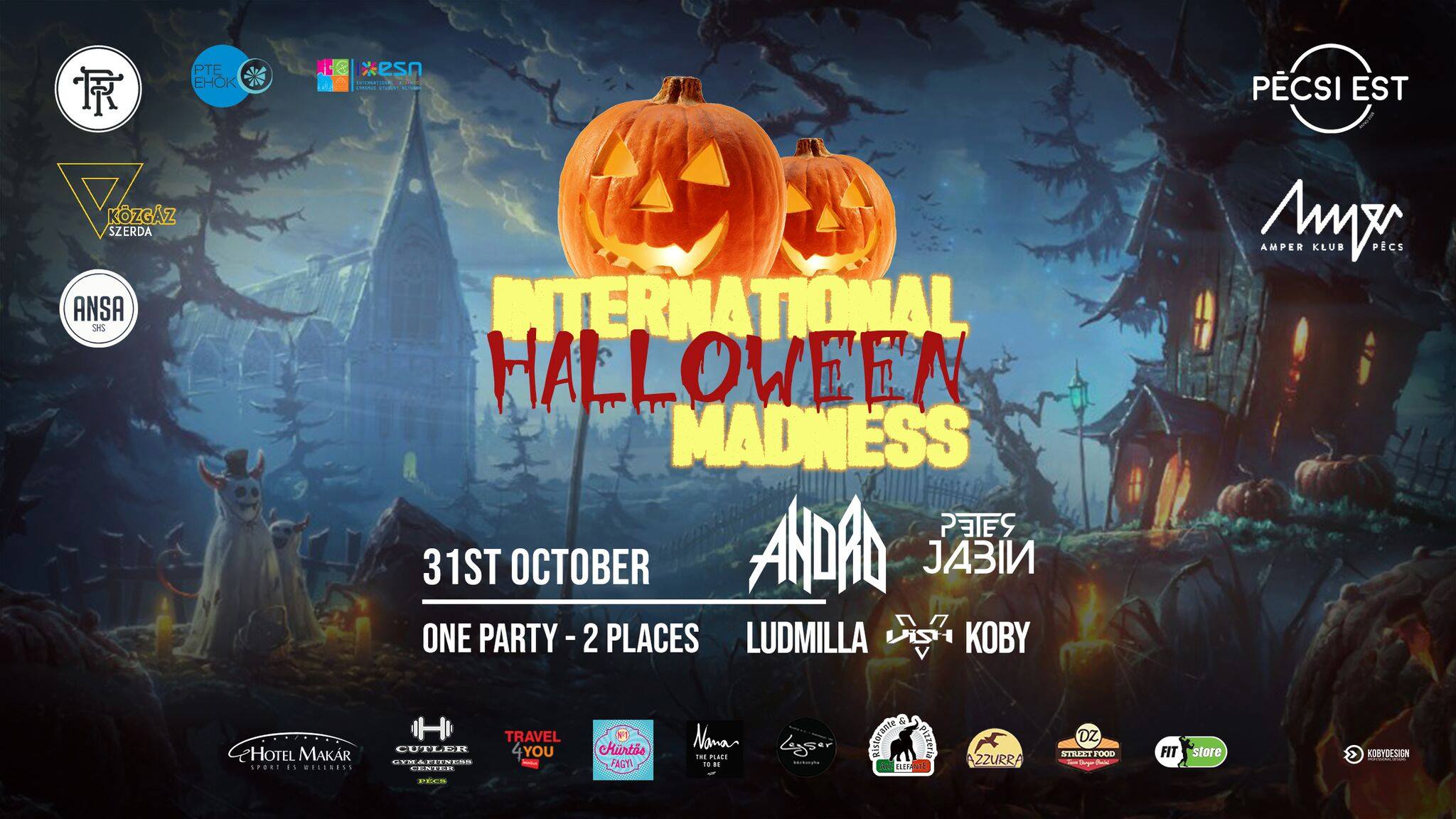 Tripod Pécs,közgáz szerda,ESN pécs,ANSA-SHS & PTE EHÖK presents:
International Halloween Madness 2018
31st October at Pécsi Est & Amper club
One night, one ticket, two clubs, creepy costumes, mysterious environment.
Due to crowdiness,this time with the same ticket you will be able to go two diffrent parties in two clubs not far from one another.
We will fully decorate the clubs:spider webs, skeletons, pumpkins etc.
Get ready prepare your costumes and pumpkins! 
We will have 3 competitions judged by 3 of our students.
(announcements by midnight)
1️. The scariest costume
2️. The most original costume
3️. The best pumpkin
(yes we will have a pumpkin carving, do it at home and bring it with a candle to Pécsi Est or amper club)
Our International Dj crew specially for the night.
Pecsi est:
=> ANDRO (HUN) RÁDIO 1-best dj in 2010-11-12-13
http://www.andro.hu/
=> PETER JABIN (HUN) RÁDIO 1 presenter-DJ/Producer-TV showman. https://m.mixcloud.com/peterjabinofficial/
=>DJ Vish (MAU) tripod dj
=>DJ Koby (HUN) tripod dj
Amper club :
=>DJ LUDMILLA (Best Radio Show | Breakspoll 2013 Winner: Label + Remix of Year | Breakspoll 2012 Winner: Track of Year | Ten #1 on Beatport)
http://www.ludmilla.hu/
=>Kelle
=>BandiT. 
https://www.facebook.com/banditla/
Same concept, same fun, lots of Costumes on a crazy night!
HaLLOwEEn MaDneSS @ Pécsi Est & Amper club(October 31st)
A bit crazy...
A bit funky...
A bit unique...
A bit special...
And a lot International!
Our sponsors:
Hotel Makár Sport & Wellness
Cutler Gym & Fitness Pécs
Travel4you Minibus
No.1 Kürtős fagyi Pécs
Nana bistro&bar
Lezser
Elefántos Étterem És Pizzéria
Azzurra Pizzeria 
DZ street-food
FITStore
CoStUME ComPeTitiOn - GrEat PriZeS!
Get ReAdy!
Don't miss the biggest event of the Semester!
SEE YOU!
For onilne tickets : https://madeinpecs.hu/
Date:
31/10/2018 - 22:00

to

01/11/2018 - 06:00
Contact details:
Tripod facebook : https://m.facebook.com/tripodpecs/
ESN Email : [email protected]
Facebook page : Erasmus Student Network Pécs ESN Pécs