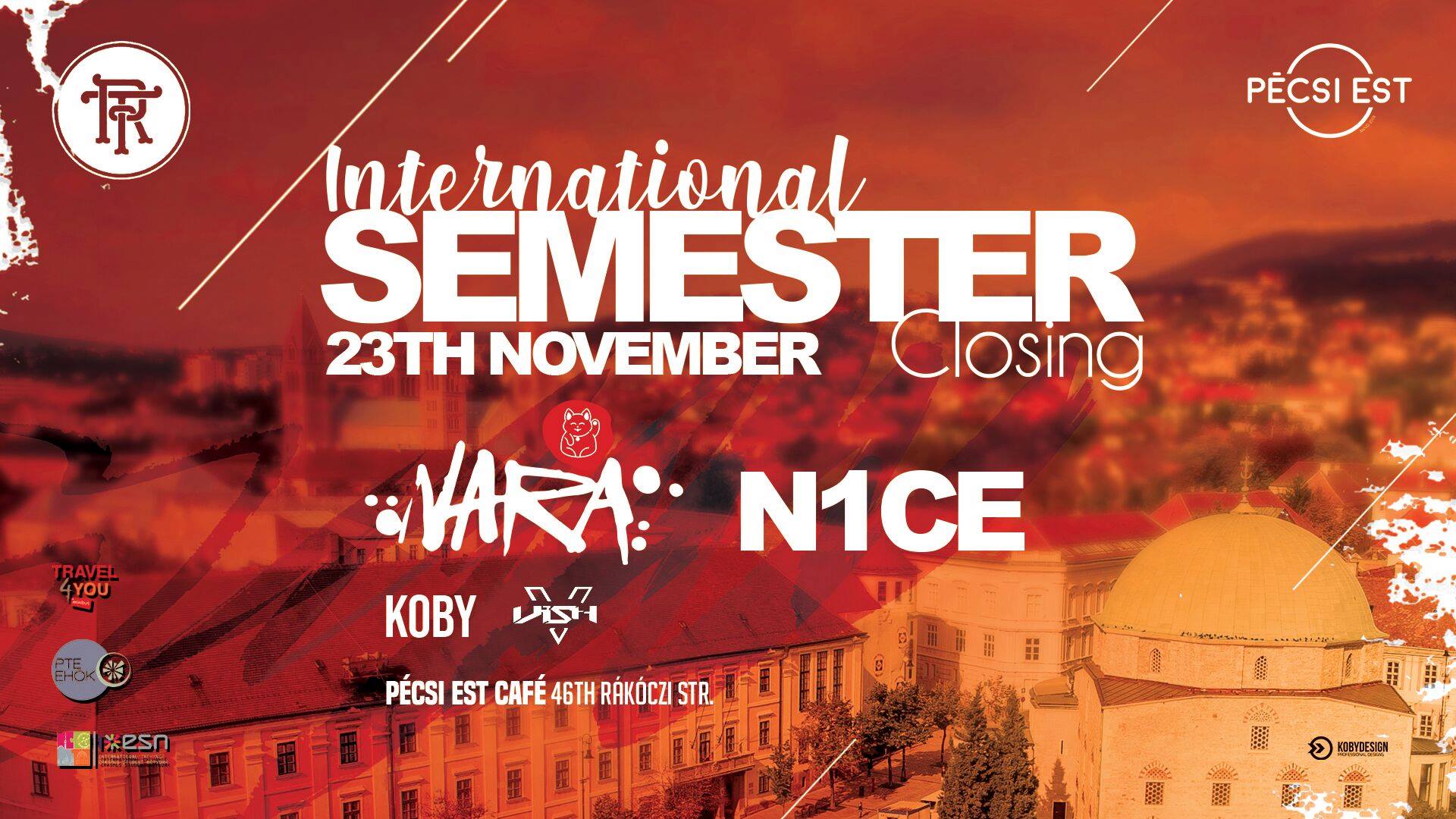 PTE EHÖK, ESN Pécs, Pécsi Est & Tripod official presents:
INTERNATIONAL SEMESTER CLOSING PARTY
Ladies and Gents, do you remember us?!
of course you do!
Our last party of the semester is here, so join us one last time for a night of pure fun, before the exam period steals our soul! 
On the 23th of November, your favorite DJs will get behind the deck of PECSI EST once again to blow your minds away. We will be waiting for you with drink discounts and our latest sponsor, Travel4you will host a lottery with your ticket numbers, where you can win coupons to travel Budapest Airport for free!
International DJ crew:
Dj Nara 
DJ N1CE
VISH
KOBY
23:00 | 18+ | ID-Check at the door for ESN students
Ask us anything at:
https://m.facebook.com/tripodpecs/
Be social with us:
instagram:tripod_pecs
Facebook: https://m.facebook.com/Tripodandco/
https://m.facebook.com/tripodpecs/
LIKE ! LIKE ! LIKE !
2018. november 23. péntek, 23:30
PÉCSI EST
Belépő: 1000 Ft

A éves Pécsi Est éjszakái is es fokozaton pörögnek.Pénteken például nálunk zárják a szemesztert a Pécsett tanuló külfödi egyetemisták, az ütemeket Dj Nara, DJ N1CE, DJ Vish és Koby csúsztatják a talpaink alá.
INTERNATIONAL SEMESTER CLOSING PARTY
with DJ NARA, DJ N1CE, Dj Vish (MAU), Koby
2018. november 23. péntek, 23:30
PÉCSI EST
Belépő: 1000 Ft
Date:
23/11/2018 - 23:30

to

24/11/2018 - 05:00
Contact details:
Tripod instagram: tripod_pecs
Facebook: https://m.facebook.com/Tripodandco/
https://m.facebook.com/tripodpecs/
ESN Email : [email protected]
Facebook page : Erasmus Student Network Pécs ESN Pécs