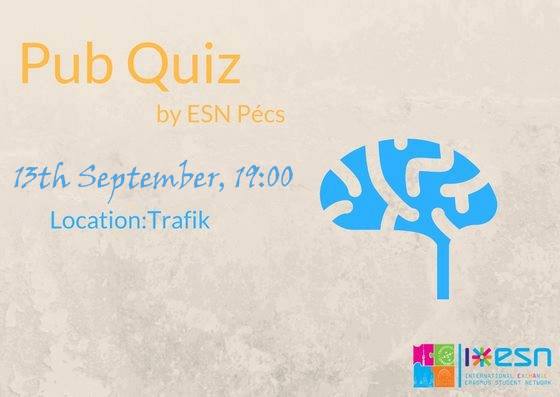 hey guys,  do you like quizes? This event is for you!

Here is the English pub quiz organized by ESN Pécs.
Friendly competition, nice place and a lot of fun. Come and test your brain!

Where: Trafik (Perczel Miklos u. 22.)
 
Don't be late!

Reservation: we are waiting for 10 teams, max. 6 members/team.

Reserve a table: email us or  leave a post on the timeline of the event on facebook. Team name and number of the teammembers.

Please note, that we cannot accept more, than 10 reservations. Even if you don't play, feel free to join us.

The best team will win a prize!

Party after ✌
See you there.

ESN Pécs
Price:
Free entrance before 19:00, 300Ft after.