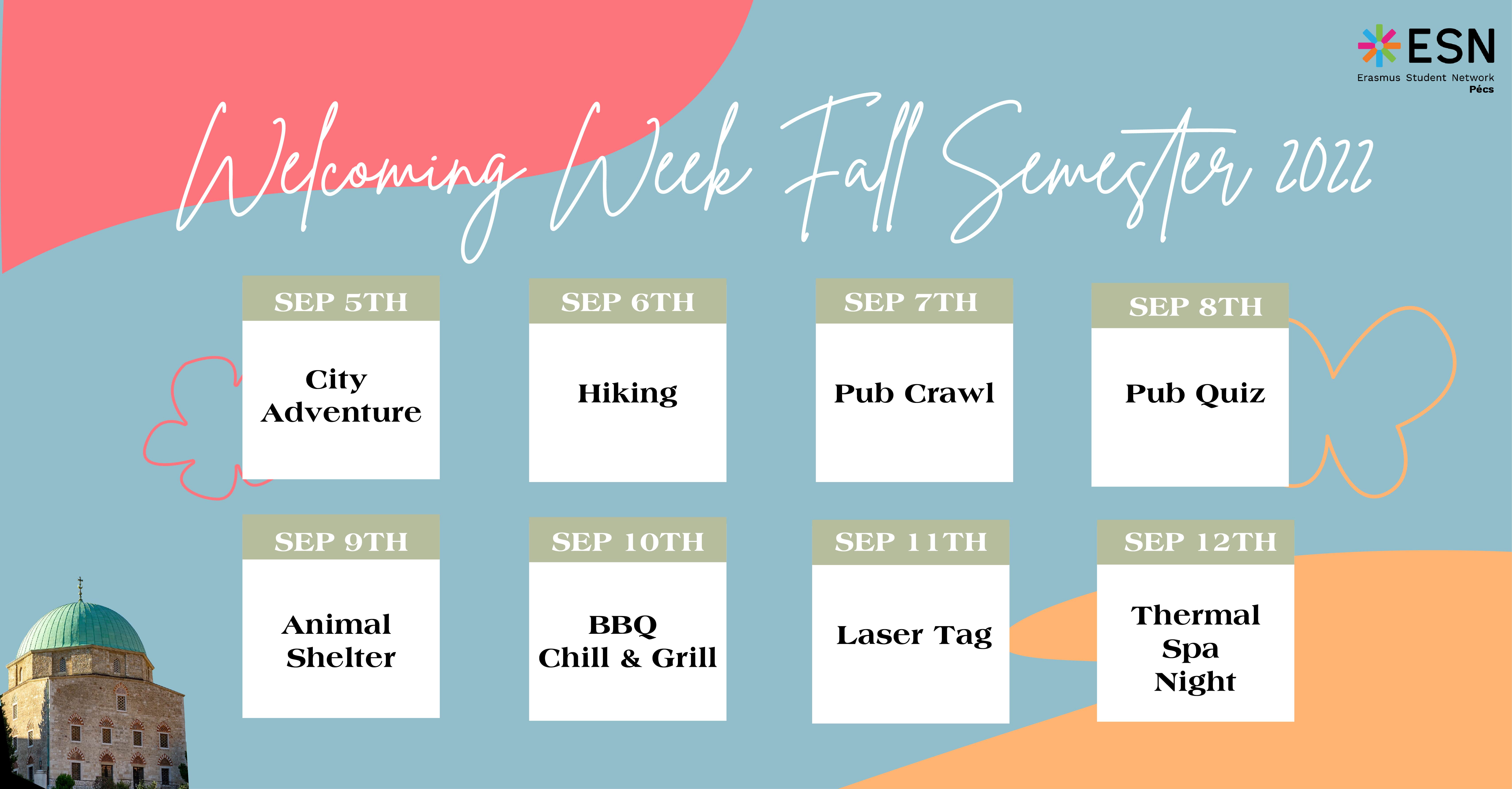 WELCOME TO PÉCS fellows!!!!!!
We are so happy to have you this semester! You are all invited to our welcoming events!
*All the events and details are still in development*
REMEMBER TO TURN ON NOTIFICATIONS ON OUR FB AND IG TO UPDATE ABOUT THE EVENTS!!!
✨5/SEP MONDAY – CITY ADVENTURE
Warm up for the welcoming week with ESN Pécs!
We invite you to explore the beautiful city of Pécs by going on an adventure! Discover the main sights and learn fun facts about Pécs while doing tasks and getting to know each other.
⏰Date: 5th of September, Monday, 5 PM
Meeting point: Széchenyi Square
✨6/SEP TUESDAY – HIKING DAY
Join our first HIKE!
To know the Pécs area better, let's conquer some local peaks. We will enjoy the beauty of nature and picturesque views.
Our route will include:
✏Széchenyi square: city center, start and end points of our hike
✏Niké statue: marvelous statue overlooking Pécs
✏Mecsek kapu: gate which is one of the most popular tourist attractions in the area
✏Ilonka pihenő: nice rest zone in Mecsek
✏Balázs pihenő: 122 steps will lead us to a calm and beautiful viewpoint
✏Tettye ruins: historical place throwing back to the 16th century, which was used as a dervish monastery in Turkish times
⏰Date and time: 6th of September (Tuesday), 17:00
‼Meeting point: Széchenyi Square, near the monument
‼BE PREPARE: comfortable shoes and clothes, water and snacks, good mood
✨7/SEP WEDNESDAY – PUB CRAWL
Join us on our first pub crawl! We will meet at the Cathedral, divide into groups and take on the most famous pubs of Pécs!
‼Meeting point: Pécs Cathedral, 7 PM
✨8/SEP THURSDAY – PUB QUIZ
On Thursday night we will have our PUB QUIZ! Get ready for friendly competition and may the best team win!
Please divide into TEAMS OF 5 by COMMENTING UNDER THE EVENT DISCUSSION'S PUB QUIZ POST.
Comment your team's name and your teammates. We can only accept the first 20 teams so hurry up!
Link : PubQuiz
✨9/SEP FRIDAY – AFTERNOON: ANIMAL SHELTER VISIT
After taking some good doggos for a walk get ready for our official semester opening party!
SEMESTER OPENING PARTY‼️
For more information, check out this event: https://facebook.com/events/s/international-party-semesterop/78139599996...
✨10/SEP SATURDAY – BBQ CHILL & GRILL
We invite you to grill and have a bonfire at Pollack Strand next to the Boszorkány Dormitory. Bring your own food. The TUYA bar will be open for us with their great drinks. We will bring some plates and napkins – hopefully enough for everybody! However, we are trying to be green. So if you can bring something, please do.
Where?
‼Pollack Strand next to the engineering faculty
https://goo.gl/maps/udiCanvXmtNZiXpY7
⏰When?
10th of September, at 16:30
Share the news and invite your friends! Bring some warm clothes, it might be chilly at night.
✨11/SEP SUNDAY – LASER TAG
LASER TAG! Let's have fun together!
We would like to invite you to join us on the 11th of September (Sunday), for a laser tag game and compete in shooting skills!
Starting from
5pm: 20 person
6 pm: 20 person
7 pm: 20 person
‼If you would like to participate, you'll have to REGISTER by filling in this form: LASERTAG
If you made the team, you'll get a confirmation email from us.
✨12/SEP MONDAY – WAKEBOARD
We will close this welcome week by a WakeBoard events.
Registration link will be out soon!
If you have any questions about the programs send us a message on Facebook, Instagram, or email.
IG: @esn.pecs
Email: [email protected]
Date:
05/09/2022 - 17:00

to

12/09/2022 - 23:45